Did you know that "Today is the best day of your life"?  It's true; there is no other moment except today, in this instance, right now.  As you wind down 2013, don't forget to celebrate your life. This is a great time to reflect on your accomplishments, appreciate what you have, and commit to developing a plan of action toward having an even more powerful 2014!  If you haven't been in the habit of making New Years Resolutions, or simply quit doing it because you felt you 'failed' in the past, then I suggest giving it another chance by keeping it simple. For example, make just one, very specific resolution rather than creating a whole list of resolutions that you may never follow.
A simple, yet specific resolution, for example, is to keep lists.  Some of the most organized and productive people are list-makers.  They live and breathe by their lists.  Some even make lists of their lists (lol)! Create a 2013 list of what you accomplished, congradulate yourself & celebrate.
What is your most memorable highlight from 2013?  
Please click here to email me your thoughts, what you have to say may be just what our Dynamic Living readers need to know! 
Happy Holidays,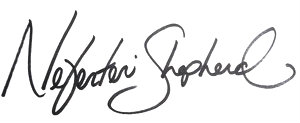 Neferteri Shepherd
Make sure you 
sign up
 for our Newsletter & start Living a Dynamic Life You Love today!